ECCE 2017 Preliminary Program • ECCE 2017 Call for Special Sessions • ECCE 2017 Call for Tutorials
What's ECCE?
ECCE is the foremost IEEE conference in the field of electrical and electromechanical energy conversion. It provides researchers, engineers and professionals from industry and academia with a convivial and innovative atmosphere for interaction and networking.
What can visitors do at ECCE?
Participate in a variety of technical sessions addressing various topics in power electronics and machine design, learn about new R&D and speak with experts in these areas, seek answers to technical challenges in their work.
What's different about ECCE?
The combined focus on both power electronics and machines means that the conference addresses integrated energy systems more comprehensively. The conference also emphasizes higher power applications , above 1 kW, in critical areas such as automotive, industrial drives, renewable energy and other grid-connected applications. Want a deeper look at the topics discussed at ECCE? See last year's list of papers given in the oral and poster sessions (PDF)
Who participates in ECCE?
Engineers representing a range of industries, national laboratories, and other organizations plus instructors, researchers and students. See the list of past attendees (PDF)
Who exhibits in ECCE's expo?
In general, the exhibit has traditionally showcased the offerings of power electronics and machine component vendors and design tools (with particular strength in the tools area.) It has also had strong participation from large OEM companies in the energy and automotive industries, plus select universities and organizations. See the list of past exhibitors (PDF)
Who sponsors ECCE?
The IEEE's Power Electronics Society (PELS) and the Industrial Applications Society (IAS). This year's corporate sponsors include General Electric and General Motors.
What does it cost to attend ECCE?
Registration rates for the conference vary depending on whether you are a member of a sponsoring IEEE society, an IEEE member, IEEE Life Member, or nonmember. Similarly, there are different fees for the ECCE tutorials; options for single-day registration, options for joint registration with the IAS meeting and guest tickets to selected events. If you just want to attend, the expo, it is free on Tuesday from 10 am -5:30 pm. See 2017 conference rates..
Fun facts about ECCE:
Attendance has grown from about 700 attendees at the first ECCE in San Jose in 2009 to over 1600 attendees this year in Milwaukee. (Editor's note: Despite the growth, I find the conference maintains a very friendly atmosphere.)
This year ECCE has received a record number of digest (paper) submissions-1715!
Next year's ECCE takes place in Cincinnati, Ohio--home to major companies in manufacturing, energy, IT and finance. The conference will be held at the ultramodern Duke Energy Convention Center.
---
Read about last year's ECCE in Milwaukee…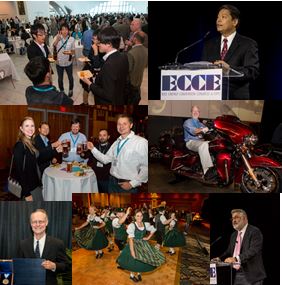 Read HOW2POWER's ECCE 2016 Post-Conference Report for highlights of 2016's record-breaking event in Milwaukee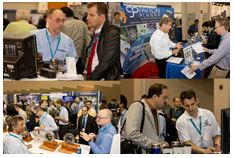 In the August issue of HOW2POWERTODAY, we preview some of the components and tools for designing power electronics and machines, which will be on display in the ECCE 2017 Expo. Read the article…
The Power Electronics Industry Collaborative will lead a special session at ECCE 2017 On Workforce Development And Careers In Power Electronics. Read the article…
---
See Who's Who in the ECCE 2017 Expo.
---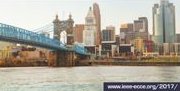 A key theme of ECCE 2017 is aircraft electrification. In the July issue of How2Power Today, Dr. Hao Huang of GE Aviation discussed his upcoming plenary talk on this theme and the 4 special sessions that ECCE will devote to aircraft electrification. Read the article…
The Power Electronics Industry Collaborative will lead a special session at ECCE 2017 On Workforce Development And Careers In Power Electronics. Read the article…
---
See Who's Who in the ECCE 2017 Expo.
---
---
What participants say about ECCE
"I do machines and electromagnetics and I interact with people in the drives world. But it's really nice to walk into a conference where I can go to a session on smart grids or on devices. I will learn something about a new topic and maybe it'll spark some ideas. This is the only conference where I feel I can get a broad spectrum of topics."—Peter Wung
"I've talked with some of my colleagues that are academics and they still feel it's one of the best technical conferences in the field of power electronics and emerging technology." -- Michael Harke
To register or for more information about ECCE 2017, see the ECCE website.