IN THIS ISSUE:

» Energy-Based Efficiency Metric Helps To Optimize Server Power Delivery For Dynamic Workloads

» Replacing Power Supply Output Capacitors Requires Equivalent Impedances

» Random PWM Quiets Noise And Reduces Emissions In Three-Phase Inverter Applications

» Optimizing Regulator Output Capacitance (Part 3): Analyzing Load Slammer Results

» Focus On Magnetics:
Wire Spool Holders And Toroid Mounts Ease Prototyping Of Magnetic Parts

» Spotlight On Safety & Compliance:
Low-Wattage Energy Efficient Power Supplies Got Their Start In White Goods

» Industry Events:
ECCE, Long Island Symposium, 3D PEIM, and WiPDA

Energy efficiency standards like 80Plus have established benchmark load and efficiency levels for computer and server power supplies, making it easier to achieve higher energy efficiency in these applications. But these standards have not addressed the need to accurately gauge and compare power supply efficiencies when power consumption in the application is variable. This can become an issue when the designer has a choice between two power supplies with different power ratings but identical 80Plus certifications. Depending on the load profile, it's highly possible that the power supply with the lower power rating will produce a higher overall energy efficiency in the application. Selecting the lower-wattage power supply can significantly reduce not only the hardware size and cost but also cut energy bill costs. To provide a fair comparison of different power conversion devices at a given load profile, in his latest article, Viktor Vogman describes an energy-based efficiency metric that accounts for dynamic energy usage and discusses how this metric can be used to optimize server power delivery architectures. Meanwhile, this month's Safety & Compliance column explores the origins of energy efficient low-wattage power supplies in appliances. This issue also extends the newsletter's ongoing discussions on EMI with an article on random pulse-width modulation in three-phase inverters, plus two articles dealing with capacitor issues. These include part 3 of the load slammers series and a guide to replacement of power supply output filter caps. In other features, this newsletter provides practical guidance on building magnetic component prototypes, news about several notable conferences and more.
| | |
| --- | --- |
| | |

HOW2POWER EXCLUSIVE DESIGN ARTICLES

Energy-Based Efficiency Metric Helps To Optimize Server Power Delivery For Dynamic Workloads

Server workloads are usually highly dynamic and often spikey. Designing a server power train with continuous power ratings equal to or even exceeding workload peak power levels is not always energy efficient and cost efficient. This article studies opportunities for power architecture optimization based on an efficiency metric that accounts for dynamic energy usage, introduces potential power delivery solutions, and discusses tradeoffs for corner cases. Read the full story…

Replacing Power Supply Output Capacitors Requires Equivalent Impedances

Very often designers have to replace a power supply's output filter capacitors with equivalent counterparts due to the obsolescence of the original parts or because the manufacturer has gone out of business. To maintain power supply performance, the replacement capacitors should provide the same voltage ripple across the load as the original parts did. Since the voltage ripple across a capacitor is a function of the capacitor's impedance, we have to create two equivalent series schematics of the original capacitors and replacement capacitors and equate their impedances. To find the equivalent impedance of a number of parallel-connected capacitors of different chemistries, we have to find the resulting impedance of parallel-connected capacitors. In this article, we will solve this problem in symbolic form, enabling us to plug-in parametric values when necessary. After deriving the necessary formulas, we will demonstrate their use with a numerical example. Read the full story…

Random PWM Quiets Noise And Reduces Emissions In Three-Phase Inverter Applications

Conventional pulse width modulation (PWM) methods for driving three-phase inverters have been found to produce some undesirable effects in industrial applications like the production of acoustic noise, radio interference, and mechanical vibration. Traditionally, these problems are solved by employing filters that can filter out the predetermined harmonic content and mitigate electromagnetic interference. However, in such applications, random pulse width modulation (RPWM) has been found more effective than traditional methods as it spreads the harmonic content over a wide frequency range, reducing the unwanted effects in three-phase-inverter-fed systems. This article provides details of RPWM signal generation for driving three-phase inverters using the SLG46620 configurable mixed-signal IC (CMIC). This solution provides a low-cost, space-saving alternative to DSP and FPGA implementations, while also simplifying coding requirements. Read the full story…

Optimizing Regulator Output Capacitance (Part 3): Analyzing Load Slammer Results

In this three-part series, the previous installment discussed types of load testing that can potentially be performed with load slammers. In this last part, we show some scope plots of actual testing using a load slammer, along with commentary on what those waveforms can tell us. After describing the voltage regulator being used in our examples, we'll demonstrate measurements of the regulator's full step and release response, response at reduced slew rate, and output ringing. The analysis of these measurements should help to illustrate the benefits of load slammers. We conclude this series by explaining how slammers can help to address capacitor sourcing challenges and their value in supporting reuse of voltage regulator designs. Read the full story…

| | |
| --- | --- |
| | |

FOCUS ON MAGNETICS
Sponsored by Payton Planar Magnetics
A monthly column presenting information on power magnetics design, products, or related technology

Wire Spool Holders And Toroid Mounts Ease Prototyping Of Magnetic Parts

Two of the practical considerations in magnetic component construction are how to hold a spool of wire so that wire can be easily dispensed from it when constructing prototype parts and how to mount small toroids on circuit boards. This article offers tips on how to make prototype magnetic component construction less cumbersome. Read the full story…

| | |
| --- | --- |
| | |

SPOTLIGHT ON SAFETY & COMPLIANCE


Sponsored by Power Integrations
A monthly column discussing standards and regulatory requirements affecting power electronics

Low-Wattage Energy Efficient Power Supplies Got Their Start In White Goods
This article recaps how the process for developing energy efficient low-wattage power supplies began with the energy systems used in refrigerators back in the 1970s. Besides giving some insight into how low-power energy efficient power supplies developed, this article will help to explain how appliances became energy efficient. It also discusses why there are no efficiency standards specifically for the power supplies used in white goods. Read the full story…

| | |
| --- | --- |
| | |

Half H-Bridge Module Combines SiC MOSFETs with Integrated Gate Drive

Drawing: The SA110 is introduced as the first high-current, high-voltage half H-bridge to combine SiC MOSFETs with a gate drive in a single module. Integrating the gate drive improves switching behavior as parasitics are reduced and easier to control.

Drawing: The half H-bridge can operate off supply voltages up to 400 V and features a typical switching frequency of 250 kHz, or 400 kHz max. Target applications include sonar, brushless dc motor drives and dc-ac inverters in the industrial, avionics, and military markets.

| | |
| --- | --- |
| | |

Buck Converters Support Sensors And Cameras For Assisted Driving

Drawing and graph: Delivering output currents from 0.6 to 4 A, these automotive synchronous buck converters boast class-leading miniaturization and efficiency including a 2-mm x 2-mm device footprint and 90% efficiency when converting 3.6 V to 1.8 V. The current-mode control combined with fixed 2.2-MHz switching makes it possible to reduce the size of peripheral components while eliminating interference in the AM band.

Table: Key electrical specifications.

Buck-Boost Controllers Deliver True Bidirectional Power Conversion For Industrial Battery-Powered Applications

Photo: The ISL81601 and ISL81401 are described as the industry's only true bidirectional controllers that sense peak current at both ends and provide cycle-by-cycle current limit in both directions while in buck or boost mode. Leveraging the company's modulation scheme and algorithms, these controllers achieve the high reliability needed for dc power backup and battery-powered medical, industrial and telecommunication systems.

Smart Switch Supports Fuel Savings In Automotive Power Trains

Photo: The TLE9104SH is described as the first smart four-channel low-side switch for currents up to 5 A dc in 12-V systems. This allows controlling actuators such as high-precision port fuel injectors, high-energy valves or high-current relays in engine management, transmission control and battery management systems. With an RDS(ON) of 300 mΩ at 150°C, it comes in a DSO-20 package with an 80-mm² footprint.

USB Type-C And USB Power Delivery Controllers Have Fully Integrated Power Paths

Diagram: According to TI, these controllers offer system designers the industry's highest level of integration and are the first USB PD controllers to source 100 W and 200 W of power.

Diagram: The TPS65987D is a single-port device, while the TPS65988 is a dual-port version.

| | |
| --- | --- |
| | |

MORE POWER PRODUCTS:
• Railway DC-DC Converters Withstand High Input Surge More details…

• Digital Signal Controller Accelerates DSP Performance for Time-Critical Control Applications More details…

• 30-kW COTS Military Power Inverters Target Harsh Environments More details…


| | |
| --- | --- |
| | |

| | |
| --- | --- |
| | |

INDUSTRY EVENTS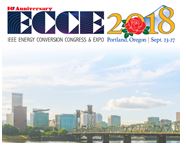 On 10th Anniversary, ECCE Draws Nearly 1800 Attendees
The 10th annual IEEE Energy Conversion Congress & Exposition (ECCE), co-sponsored by IEEE Power Electronics Society (PELS) and Industry Applications Society (IAS), with support from industry partners Wolong Electric and General Motors, concluded September 27, 2018, attended by a record 1,789 professionals and researchers spanning various facets of the global energy conversion industry. And as ECCE 2018 general chair Avoki Omekanda observed, "This year, the call for digests garnered 1,788 proposals—our highest to date, allowing us to design a valuable technical program addressing the needs of our attendees, and providing them with the education and insights needed in their everyday work." Read the full story…
Long Island Symposium Looks To Draw Hundreds Of Power Electronics Professionals Once Again
The IEEE Long Island Power Electronics Symposium is the area's premier annual event that brings together the local power electronics community. This year's symposium, which will be held Thursday, November 8, at the Hauppauge Radisson in Hauppauge, NY will be the second edition of a very successful inaugural event held in 2017. Last year's symposium drew 375 total attendees to a series of technical presentations and an exhibit hall in which 46 companies showcased their products and services. Read the full story…

3D Power Electronics And Manufacturing Symposium Was A Great Success
The PSMA-sponsored second International Symposium on 3D Power Electronics Integration and Manufacturing (3D PEIM) was another success! On June 25-27, 2018, over 70 participants, 22 from outside the U.S., attended the event in College Park, MD. Attendees were able to attend every presentation in the 3D PEIM high-value single-track technical program featuring 34 oral presentations divided into eight topical sessions, each with a keynote speaker followed by three invited/contributed talks. The presenters and attendees engaged in lively discussions during the sessions and had many networking breaks. Read the full story…
Workshop Will Present Developments In Wide Bandgap Power Devices & Applications
The IEEE Workshop on Wide Bandgap Power Devices & Applications (WiPDA) provides a three-day forum for device scientists, circuit designers, & application engineers from IEEE's Power Electronics & Electron Devices Societies as well as the Power Supply Manufacturers Association to share technology updates, research findings, experience & potential applications. This year's workshop will be held October 31 through November 2, 2018 at the Georgia Tech Hotel and Conference Center in Atlanta, GA. Read the full story…


OTHER TOP POWER NEWS


A call for presentations has been issued for the next Components for Military & Space Electronics Conference and Exhibition (CMSE), which will be held April 16-18, 2019 in Los Angeles. In addition, exhibitor registration is now open.

Sponsors of the Applied Power Electronics Conference have announced the continuationof the Student Attendance Travel Support Program for APEC 2019, awarding up to $1,000 per student. Interested students must apply by Oct. 26, 2018.

Arrow Electronics has announced that it now supplies GaN Systems' range of GaN transistors in Europe, Middle East and Africa (EMEA).